Discover more from Rise & Shine ☀
Start your day, the smart way!
Over 2,000 subscribers
Unacademy launches 50 channels▶️, CCI clears PayU's $4.7 Bn deal💸, Reliance to acquire stake in SenseHawk☀️
Unacademy launches 50 education channels, PayU's $4.7 bn acquisition of BillDesk, Reliance to acquire stake in US-based SenseHawk, Funding Deals and more.
Start your day with tech stories that matter!
Daily Mail with a quick wrap of tech highlights and growth strategy that you can read in 2 mins!
Join for free👇🏻
---
Unacademy launches 50 education channels▶️
Edtech unicorn Unacademy on Monday announced the launch of 50 new education channels at an event 'Unacademy One' held in Bengaluru.
Few of these 50 channels are built on the existing content categories offered by Unacademy, and it also marks the ed-tech firm's foray into newer terrains such as 'Tick Tock Tax'- to simplify the direct and indirect tax concepts, and Life After IIT - a platform to crack JEE and discuss success stories of top Rankers.
Each channel will have the finest educators, curating and creating high-quality content for learners and aspirants pan India, the company said.
Unacademy also announced that it is partnering with GATE Academy. Unacademy Group comprises Unacademy, Graphy, Relevel and CodeChef.
---
CCI clears PayU's $4.7 billion acquisition of BillDesk💸
A year after the deal was announced, the Competition Commission of India (CCI) on Monday said it has approved payments major PayU's $4.7 billion acquisition of online payments firm BillDesk.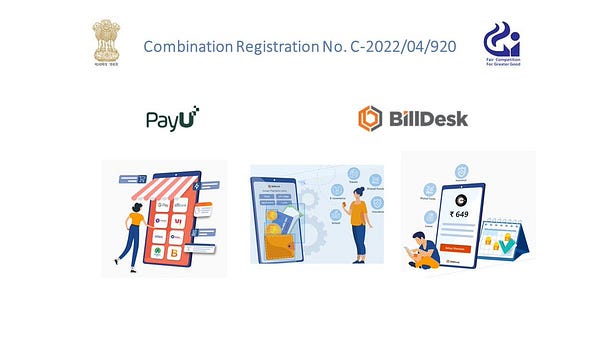 The PayU-BillDesk deal is pegged as the second-largest buyout in the Indian internet sector after Walmart's $ 16 billion acquisition of ecommerce major Flipkart in 2018. This will involve the merger of the payments gateway business of two of India's largest players.
The deal was delayed as the competition watchdog sought more information about the $4.7 billion buyout of BillDesk by PayU India.
---
Hot Shorts⚡
---
Reliance Industries to acquire 79.4% stake in US-based SenseHawk for $32 mn☀️
Reliance Industries (RIL) announced that the company has entered into definitive agreements with SenseHawk Inc. (SenseHawk) for acquiring 79.4% stake of SenseHawk, through primary infusion and secondary purchase, for a total consideration of $32 million.
Founded in 2018, SenseHawk is an early-stage California-based developer of software-based management tools for the solar energy generation industry. 
SenseHawk helps accelerate solar projects from planning to production by helping companies streamline processes and use automation. It provides a solar digital platform to manage the end-to-end solar asset lifecycle.
Ambani is pivoting Reliance into green energy. The company will be investing $80 billion over the next 10-15 years on renewable energy and building a new complex next to its refinery.
---
Tweet of the day🐥
---
Other Top Stories
👸 Who is Liz Truss? A Profile of UK's Third Female Prime Minister
🚗 Will launch more affordable e-cars by 2023: Tata Motors
---
"When we strive to become better than we are, everything around us becomes better too."

- Paulo Coelho
---
Thanks for reading😊
Hit Like❤️. Share with your friends/colleagues, if you enjoyed the newsletter.
PS: Every day, keep an eye on the Promotions tab for new mail.